Friends, I'd love for you to help me welcome my bloggy buddy Jen, who's here today to share a fun tutorial and giveaway with us!  We're blog swappin' today, so you can find me over at her place,
Sunny Vanilla
, with a tutorial and giveaway of my own!  Be sure to stop by and enter to win one of my handstamped necklaces and to find out all my jewelry stamping secrets!  In the meantime, here's Jen…
*****************************************************
Hi there!  My name is Jen and for those of you who don't know me, I blog over at Sunny Vanilla.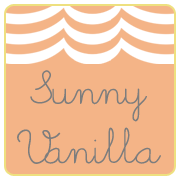 I married a boy who stole my heart in high school and together we made one amazing little nugget of joy.
I'm a thirty-something who grew up loving everything about the 80's!  New Kids on the Block.  Hypercolor t-shirts.  Nintendo.  Big bangs.  And of course tie dye.
I'm here to share with you a simple tutorial for
R
A
IN
B
O
W
tie dye socks.  It's a great project to do when you're stuck inside because of the cold weather or outdoors, when it's warmer, for a birthday party.  Plus I'm
giving away two dye technique kits + a plastic protective cover so you can do this fun project with your kids.
 Let's get started
dye
gloves 
salt
hot water
plastic cups
styrofoam cups
rubber bands
socks
 Place the rubberbands around your socks and set aside.  To get the "bleed" effect without the white line separating colors, don't tie the rubberbands too tight.
I placed the styrofoam cups inside of larger plastic cups for extra protection.  I then added the salt and dye per manufacturer's instructions.
Add hot water per label instructions.
 Now start to dipping!
For those middle sections, I just placed it on top of the cup and poured the dye over it using a spoon.
Save the lightest color for last so the others don't bleed on it.
Hang them to dry, then machine wash once before wearing.
Now let the kids run around and have fun with them!!!
I'd love for you to come check out
Sunny Vanilla
!!!  I love meeting new folks on my blog, so come say hi and I'll be sure to return the favor.  
*I'm in no way shape or form affiliated with the Tulip brand or company*
Rafflecopter will walk you through, just wait for it to load!
Good luck!