Back to School "Mommy & Me" Journal
This shop has been compensated by Collective Bias, Inc. and its advertiser. All opinions are mine alone. #GoldfishLunchSmiles #CollectiveBias
Can you believe August is already here? Before we know it, those buses will be rolling down the street and a new school year will begin! Today, I want to share a fun and easy way to connect with your kiddos as they head back to school, with a little help from Walmart.
How many of you have had a conversation like this with your kids when they get off the bus in the afternoon?
Me: "How was your day?"
Little Crafter: "Fine."
Me: "Did you do anything fun?
LC: "Nah."
Me: "Well, tell me what you did!"
LC: "Nah."
Seriously?! I know I can't be the only one. As a mama, after not seeing my son for eight hours, I want to know what he's been up to! I want to know what he learned, what he did, who he played with, how his classes are going, and just about any detail he's willing to share about all that time we spent apart. I've come to realize that my usual line of questioning gets me nowhere, though, so I decided to come up with a new plan to help us connect and share.
I started with a trip to my local Walmart, where I stopped by the Produce section, the Back to School section, and a special display of Little Crafter's favorite snack: Pepperidge Farm® Goldfish® crackers.
You see, one thing I know about Little Crafter is that he's an introvert, just like his mama. After spending the whole school day surrounded by classmates and teachers, he comes home and needs a little time to himself to recharge. I also know that when he gets home from school, he is always hungry. So, I came up with a plan that combines giving him some alone time with a smart, tasty snack that will get him to open up in a creative way.
My plan is to start an after school routine where he sits down with a snack and a special "Mommy & Me Journal" that we will create together. To make your own, all you need is:
a composition book or spiral notebook
colored pens, pencils, and/or markers
That's it! You can also use stickers, crayons, or anything else you like, but it's really a simple idea. What makes it special is what you put inside. Here's how it works.
Each day, I will create a page where Little Crafter can respond to me by writing, answering questions, or drawing pictures.
Some kids might be willing to just sit and write a paragraph all about their daily activities, but Little Crafter likes to be guided with specific questions, so I will ask things like, "who did you play with," or "what is one new thing you learned?" I might ask about a particular class, a special event, or a project I know he's working on.
Then, Little Crafter will also have the option of writing his own questions for me. If he doesn't have any on a particular day, that's just fine, but it opens the lines of communication and allows us to share back and forth instead of being one-sided. He sometimes asks about my work, what I did for fun, or just in general what happened at home while he was at school. Another side benefit of this journal is that it gets him to physically write by hand and work on his handwriting, which isn't really a priority in his mind.
On other days, instead of writing, we might draw! Both of us love art, so we enjoy drawing pictures for each other. It's always so interesting to see what unique ideas he decides to illustrate. Here, he drew a unicorn heading to Cloud Cuckoo Land and a flying pig headed for China to pick up his brother.
While he works, Little Crafter is happy as can be to munch on his favorite snack, Goldfish® Colors Baked Snack crackers and some seedless grapes. He loves the taste, and I love that it's a smarter snack choice. We constantly have at least one bulk size box of Goldfish® crackers in the pantry, and they're a great deal with Walmart's rollback pricing of just $5.98. Plus, does it get any better than mixing something salty with something naturally sweet?
What do you think? Ready to try out a Mommy & Me Journal to go with your kids' afternoon snack routines? Head to your local Walmart, where you'll find everything you need, or hover over the image below and click on the links to order these items from Walmart.com without even leaving the house!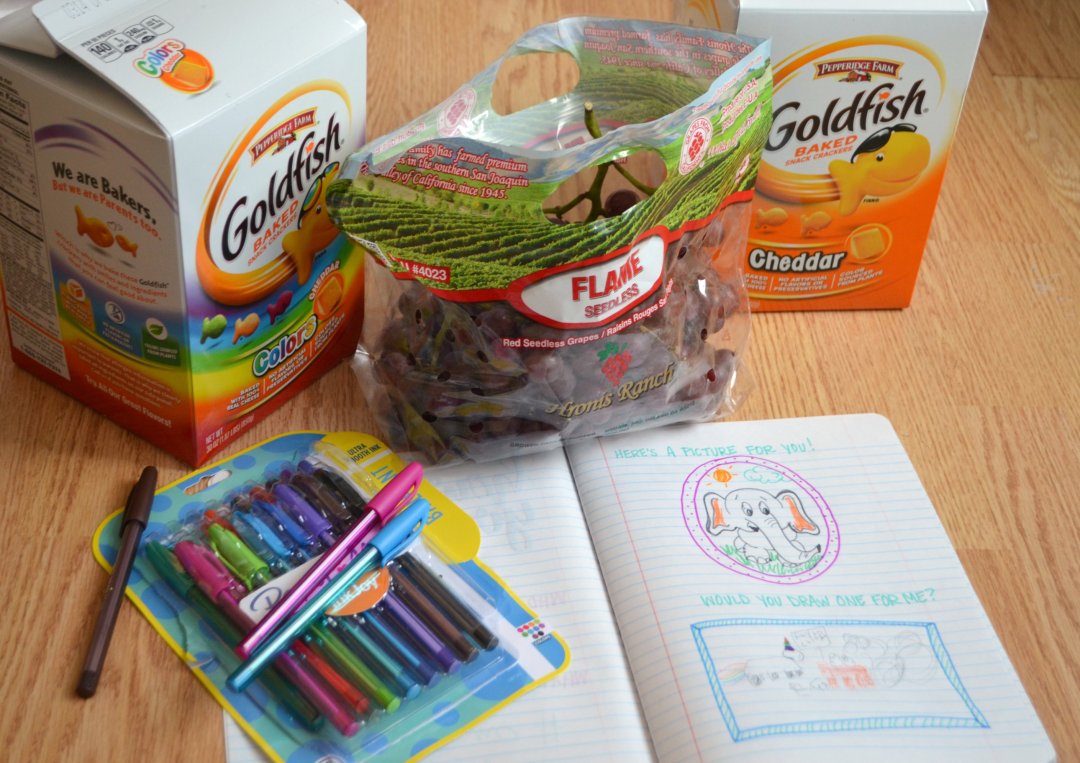 To purchase the produce featured in the image above, find a Walmart near you!
I'd love to hear about your favorite ways to connect with your kids and share a smile. Join the conversation in the One Artsy Mama & Friends Facebook group and tell us what works in your family.
Get more back to school inspiration with Goldfish® crackers here. Let's get this school year off to a great start!