Craft Lightning: Dr. Seuss Pencil Toppers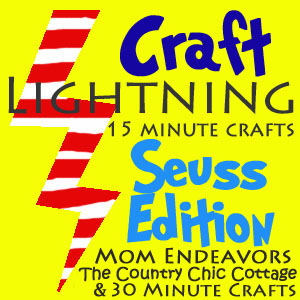 Hey there friends! Not only is Valentines Day swiftly approaching, but soon we will also be celebrating the birthday of the beloved children's author, Dr. Seuss. In honor of his birthday, I (Erin) came up with a quick and easy craft (under 15 minutes!), perfect for handing out at school, or topping off your own children's pencils!
Dr. Seuss Pencil Toppers
Materials:
-Felt-Red, White
-Sewing Machine/Need and Thread
-Hot Glue
Step 1: Cut out matching hat pieces.
Step 2: Cut out white stripes and attach with hot glue.
Step 3: Hand or machine sew pieces together. Make sure to leave an opening in the bottom for the pencil!
Step 4: Hand stitch each side of the bottom of the hat to give it a finished look.
That's it! I was able to make three of these in no time flat. I had to make a couple because my eldest kept stealing them for his pencils, and my middle child kept trying to put it on the dog's head!
These would make the perfect Dr. Seuss birthday party favor, or a special reading incentive for your budding reader! Make sure to visit the other Seuss-inspired Craft Lightning crafts for some Seussical inspiration!